Exercise Physiology
Reach Optimal Health with Exercise Physiology
Accredited Exercise Physiologists (AEPs) are university qualified, allied health professionals with the knowledge and skillset to use exercise to treat medical conditions and injuries.If you have Private Health Insurance or you're currently under WorkCover, Motor Vehicle Accident, DVA or NDIS funding streams you may qualify for rebates under these compensable schemes.
Is Exercise Physiology right for me?
Exercise Physiology is suitable for anyone who has a sustained injury or medical condition that can be improved with exercise treatment or management.

Exercise Physiologists are qualified to prescribe exercise for health, rehabilitation and fitness.The skills and knowledge of an Exercise Physiologist are developed over five years of university education which enables them to treat proficiently in a variety of settings. This includes land-based exercise, water-based exercise (warm water therapy) and through education via individualised health counselling and facilitated group programs.

Exercise Physiologists can also work with healthy individuals to assist them in optimising their health and fitness goals, leading to improved function and ability to complete activities of daily living.
Do I need a referral?
You don't need a referral unless you're being treated by one of our Exercise Physiologists through a compensable scheme; you may pay for your session as a private client or claim through your Private Health Insurance.

You can drop of a hard copy of your referral to Reception or your GP can send your referral to gwwcalliedhealth@belgravialeisure.com.au.

Partners in Health
Our Partners in Health program provides disadvantaged members with access to health care benefits as well as the support of our health care professionals.

We offer additional services to those who require health care and support. Whilst also providing access to educational and state funded programs to help support members with injuries and/or medical conditions.

Assisting members with disabilities, injuries and chronic and or medical conditions. Those who need medical attention but may not necessarily be able to afford treatment.

The Partners in Health program is also offered to members who are looking for rehab or recovery professional assistance.

Those individuals experiencing disabilities or chronic conditions that have previously been unsupported will now have the ability to receive funding through compensable schemes with Partners in Health.

Learn more about the Exercise Physiologists at Gurri Wanyarra Wellbeing Centre:
Steph - Accredited Exercise Physiologist (Part time)
Qualifications: - Master of Exercise Physiology - Bachelor of Exercise Science
Bella - Accredited Exercise Physiologist (Part Time)
Qualifications: Master of Clinical Exercise Physiology - Bachelor of Exercise and Sports Science - Certificate IV in Allied Health Assistance - Certificate in Barre and Reformer Pilates Teaching, and Pre & Postnatal Training - Pre- & Postnatal Coaching Certification (CPPC) - Certificate in Boxing Skills and Fitness
FAQs about Exercise Physiology @ Gurri Wanyarra
Expand all
Services
Individual appointments (30-60 minutes): Initial or Review appointment.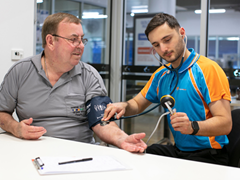 Group Exercise Physiology sessions (60mins): Gym or Hydrotherapy pool supervised by one of our Exercise Physiologists completing your individualised exercise program. You must have completed an Initial consultation prior to joining the group sessions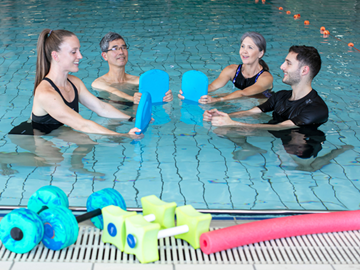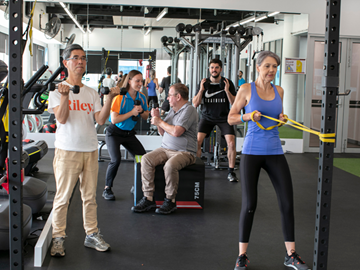 We service clients who are under Medicare, DVA, NDIS, WorkCover, TAC, Private Health Insurance and as well as those who are not covered under any compensable scheme and pay as a private client.

Please feel free to speak to one of our friendly team members for more information. You can visit us in centre or contact us by phone on (03) 4431 100.

Scan the QR code or click the 'Enquire now' button to reach out to our Exercise Physiologists.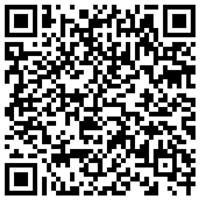 For General Practitioners, Specialists and Allied Health Professionals
Please send any referrals to gwwcalliedhealth@belgravialeisure.com.au

Once you have sent your referral to us, we appreciate you encouraging your patients/clients to contact the centre on (03) 4431 1000 to arrange an appointment time.


Please use the following information when setting up referral:

Gurri Wanyarra Wellbeing Centre
9 Browning St, Kangaroo Flat, VIC 3555
(03) 4431 1000
gwwcalliedhealth@belgravialeisure.com.au
MEDICARE - As of Monday July 3rd we are moving forward with a gap payment of $22, instead of bulk billing
Exercise Physiology - 10953
Assessment for Diabetes Group - 81110
Type 2 Diabetes Group - 81115
Follow-up allied health services for People of Aboriginal or Torres Strait Islander descent - 81315

To access the EPC form click the link below
Type 2 Diabetes Form

EPC - Aboriginal and Torres Straight Islander Form

*please note that all information on the referral form is correct: patient details including Medicare Number (with IRN) and a contact number (we are unable to get in contact with your patient/client if there is no contact number on the referral). Please ensure that EXERCISE PHYSIOLOGY is allocated sessions and NOT Physiotherapy or any other Allied Health Practitioner. If there are details which are incorrect we may have to send your patient/client back to you to retrieve an updated copy of the referral.
DVA
For all DVA referrals plese click on the link below to access the referral form

We appreciate you and your practice being a part of our ever expanding referral network.
For NDIS Participants/Support Coordinators
NDIS funding MUST be allocated to Exercise Physiology.

You may send any referrals to gwwcalliedhealth@belgravialeisure.com.au.
Please encourage your Participant to contact us to book in for an appointment, or you may also contact us on behalf of them to set up an appointment


We currently bill under the following item codes:

Improved Health and Wellbeing

12_027_0126_3_3 Advice provided by an Exercise Physiologist regarding exercise required - Individual
12_027_0126_3_3 Advice provided by an Exercise Physiologist regarding exercise required - Group

Improved Daily Skills

15_200_0126_1_3 Assessment Recommendation Therapy or Training - Exercise Physiologist - Individual
15_200_0126_1_3 Assessment Recommendation Therapy or Training - Exercise Physiologist - Group
What to expect from your appointment. Please read prior to your visit
First Visit:
Please arrive 5-10 minutes prior to your appointment. Report your to reception and they will direct you to our waiting area and for you to fill out our Patient Registration, Privacy, Consent and Cancellation Policy forms. This is ESSENTIAL to the smooth operations of our centre. If you have any concerns regarding filling out our paperwork, please notify us in advance.

All future visits:
When you have an appointment with one of our Exercise Physiologists, you MUST report your attendance to reception. This is important for your health and safety so our Exericse Physiologists are aware of your presence to your appointment and can locate you.
Chronic Conditions Exercise Physiolgists work with
Expand all
Cancer
Breast
Bowel
Prostate
Bone Metastases
Cardiovascular Disease
Coronary heart disease
Stroke
Hypertension
Peripheral artery disease
High Cholesterol
Post myocardial infarction (Heart Attack); stents, coronary artery bypass graft (CABG)
Atrial Fibrillation
Respiratory/Pulmonary
COPD (Chronic Obstructive PulmonaryDisease)
Asthma
Emphysema
Management of Long COVID Symptoms
Mental Health
Anxiety
Eating Disorders
Stress
Metabolic Diseases
Type 1 and 2 Diabetes
Obesity/Weight Management
Polycystic Ovarian Syndrome (PCOS)
Metabolic Syndrome
Fatty Liver
Obstructive Sleep Aponea (OSA)
Musculoskeletal
Muscle strains/tears - Sporting Injuries
Back pain - low back pain, bulging discs
Joint pain - tendinopathies and bursitis
Neck/Shoulder/Hip/Knee/Ankle Injuries
Post fracture injuries
Neurological Conditions
Parkinson's Disease
Stroke
Multiple Sclerosis
Cerebral Palsy
Spinal Cord Injury
Traumatic/Acquired Brain Injury
Other Conditions/Diseases
Post surgical - Knee or hip replacement, Arthroscopes, Laminectomy/discectomy/spinal fusion
Arthritis
Osteoarthritis
Osteoporosis
Pregnancy
Postnatal
Falls Prevention
Disability & NDIS
Paediatrics
Adolescent
Elderly/Older Adults
Menopause
Chronic Kidney Disease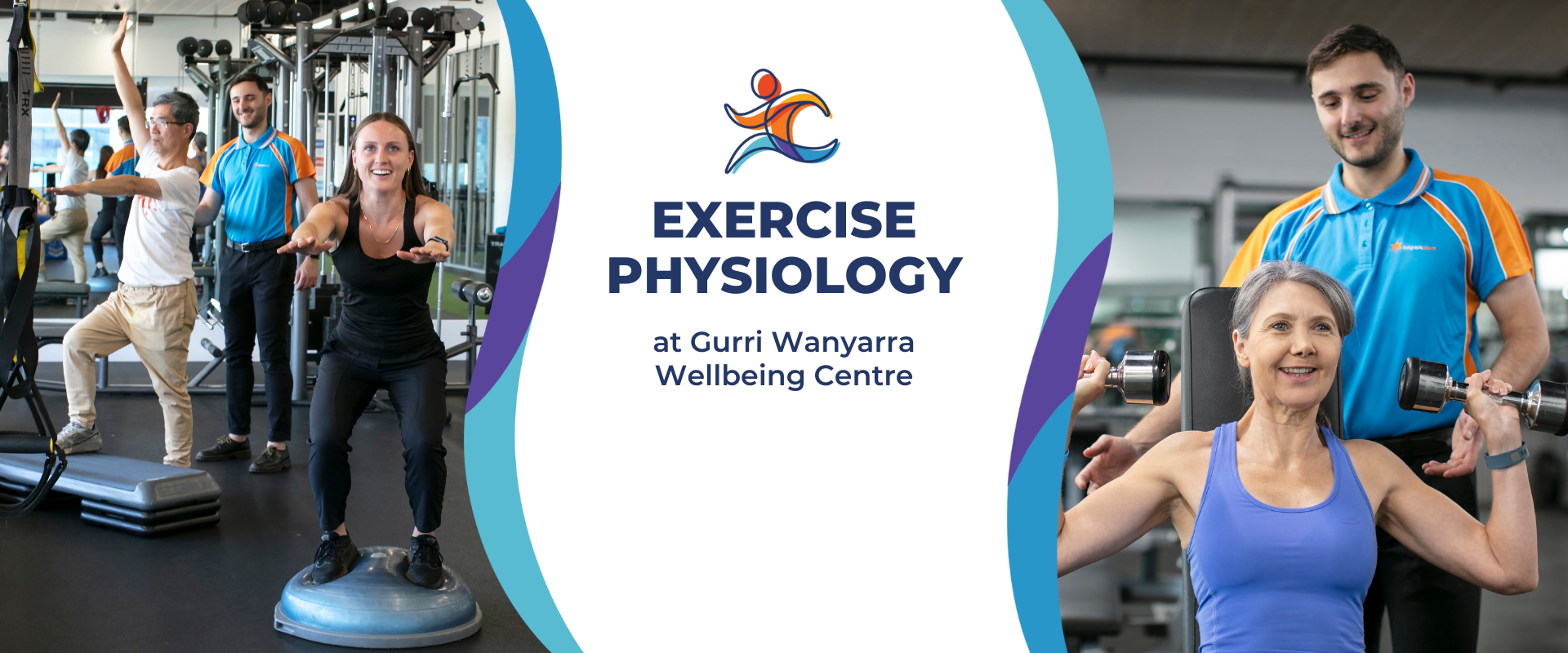 Get in touch today!
Click Enquire now to get in touch with our Exercise Physiologists. They can answer your questions prior to your first visit. Call us on (03) 4431 1000 or email gwwcalliedhealth@belgravialeisure.com.au